Browser security: Pwn2Own topples all but Chrome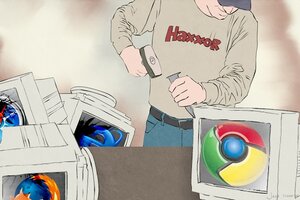 Jake Turcotte/CSMonitor.com
How safe is the browser you're using to read this?
Unless you're running Google's Chrome or squinting at these words on a mobile device, the answer could surprise you. And pipe down, Firefox fanboys – we're talking to you, too.
The Pwn2Own browser security competition, held this week at the CanSecWest conference in Vancouver, Canada, saw Internet Explorer, Firefox, and Safari all fall to exploits. But don't panic. Your browser's not suddenly in jeopardy: the vulnerabilities identified are never made public. In fact, the event affords companies and programmers a chance to fix holes in their software before hackers can use them to inflict real-world damage.
Why would a hacker bring an exploit to the conference instead of wreaking havoc with it? This year's winners took home $5,000 per hack and the slick machines on which they executed them.
---