Google poised to sell ebook adverts. Will reading ever be the same again?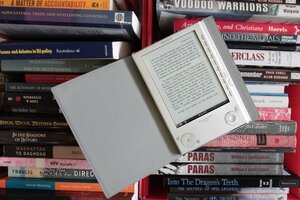 Newscom
Yesterday, Google confirmed it will soon enter the ebook market – a move that sent shockwaves through the ailing publishing industry. Although details are scare, Gabriel Stricker, a Google spokesman, told MediaPost today that the company was committed to "helping our partners find more ways to make their books accessible and available for purchase." Stricker estimated that Google would begin offering titles as soon as of the end of this year.
So what will the media giant's entry into the ebook fray mean for the average reader? Well, first of all, don't expect Google to manufacture a device. And don't look for Google to get into the content business. Instead, as Motoko Rich writes in the New York Times, the company will largely act as a filter – a clearinghouse for millions of fiction, nonfiction, and reference titles. The ebook program will "pit Google against Amazon.com, which is seeking to control the e-book market with the versions it sells for its Kindle reading device."
---