Can you really advertise for a search engine? Ask Bing.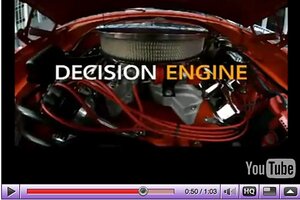 YouTube
Just two days after Microsoft pushed its Bing search engine live, the software giant unveiled a major multimedia advertising campaign, comprised of banner ads, video spots, and interactive displays on social networking sites such as Facebook and Twitter. Although Microsoft hasn't publicly disclosed the exact cost of the campaign, Advertising Age estimated the figure to be roughly $80 to $100 million. In late May, Ad Age reporter Abbey Klaassen called it a "big campaign":
....big compared with consumer-product launches ($50 million is considered a sizable budget for a national rollout) and very big when you consider that Google spent about $25 million on all its advertising last year, according to TNS Media Intelligence, with about $11.6 million of that focused on recruiting. Microsoft, by comparison, spent $361 million. Certainly Google has never faced an ad assault of anything like this magnitude.
A lost cause?
This May, Google rolled out its first-ever TV spot. But that advert was not designed to draw attention to Google's search tool, which already dominates the market, and has for several years. Instead, it hyped up the Google Chrome, a sleek, next-gen browser, chock full of helpful shortcuts and bookmarking technology. The Bing campaign, on the other hand, is designed to do the close-to-impossible: unseat Google as the search tool of choice.
---