As US government closes in, Google eyes revenue streams for Book Search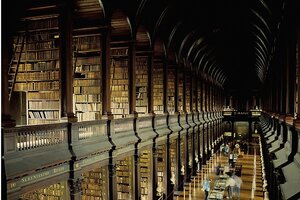 Newscom
Earlier today, Google unveiled a new version of its controversial Book Search tool, even as the US government continued its investigation into a deal reached last October between publishers and the Mountain View, Calif.-based tech company. The updated Book Search includes a swath of new features intended to mirror the way we read dead-tree books, from an expanded table of contents to a page-turn button, with accompanying animation.
"Think about how you use a book," Brandon Badger, the Product Manager at Google Books, wrote today on Google's blog. "You want to read it, sure – but there are a host of other ways for you to interact with the words between the covers. You might want to flip through the pages to find an image. You might want to open right up to the table of contents so you can find your favorite chapter. And you might want to pass it along to a friend so they can have a look at it, too."
It's all about the Benjamins
Badger said the search function has been improved, allowing users to get more context from each search term. Other features include a better book overview page and a URL-sharing option. "For readers, this means they can more easily share pages from books you love, while publisher partners can gain even more awareness across the web to promote their books," Badger explained.
---