Man jailed for copying 'The Love Guru,' pretty much the worst movie ever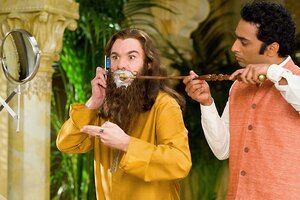 Newscom
Well, that's what you get for encouraging anyone to watch "The Love Guru."
Yesterday, a California man named Jack Yates was sentenced to six months in prison for distributing a pirated copy of Mike Myers' stupendously bad 2008 comedy. Yates was an employee of Los Angeles Duplication & Broadcasting, the company hired to make promotional copies of "The Love Guru." Promo clips are shown when an actor comes on a talk show to discuss his or her latest work; this particular snippet, for instance, was destined for "The Tonight Show with Jay Leno."
Hijinks
But Yates apparently had other plans in mind. According to prosecutors, the Porter Ranch, Calif.-man made at least one high-quality copy of "The Love Guru" and leaked it onto the World Wide Web, where it was downloaded by something like 85,000 people. Yates made the copy sometime in May, a month before the movie's release date, so it should be noted that those 85,000 people did not have access to the deadly reviews rendered upon the flick in June.
Rave reviews
---