A journalistic conundrum: When does Twitter count as a reliable source?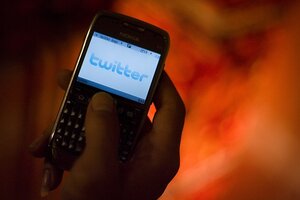 UPI/Newscom
We've devoted a lot of space here in recent weeks to Twitter, and for good reason: the June 12 elections in Iran were a major turning point for the social network. Whatever you think of Twitter – a lark, a waste of time, a brain-busting sociological malady – it's incontrovertible that the service allowed Americans a peek into a world that would otherwise have been sealed up pretty tightly.
But should Twitter be used as a source for mainstream media outlets? That's the question being raised today after a reporter for BNO News found evidence that CNN has recycled tweets from PersianKiwi, a popular Iranian Twitter user. As BNO's Michael van Poppel discovered, in a June 24 article CNN appears to have repeated several words and phrases from PersianKiwi's feed – and attributed those comments to various "sources."
Here is the lede from the CNN article:
Security forces wielding clubs and firing weapons beat back hundreds of would-be demonstrators who had flocked to a square in the capital on Wednesday to continue protests against an election they have denounced as fraudulent, witnesses told CNN. "They were waiting for us," one source said. "They all have guns and riot uniforms. It was like a mouse trap."
And here is a tweet from PersianKiwi, dated from earlier the same day:
they were waiting for us - they all have guns and riot uniforms - it was like a mouse trap - ppl being shot like animals #Iranelection 9:53 AM Jun 24th from web
---