Amazon takes one more step toward in-book advertisements for the Kindle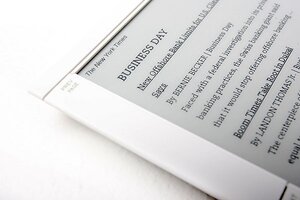 Newscom
Advertisements embedded in the text of your favorite book? It's enough to make a purist squirm.
But as Fast Company and others have noted, Amazon appears to be weighing the idea. The evidence comes in a pair of applications recently filed with the US Patent and Trademark Office, including one for "providing fixed computer-displayable content in response to a consumer request for content." (Translation from the geek: Amazon wants to patent a way to embed content – or, in this case, adverts – onto a website or mobile device such as a Kindle DX.)
The applications, titled "On-Demand Generating E-Book Content with Advertising," and "Incorporating Advertising in On-Demand Generated Content," both list Hanning Zhou, the director of Amazon's Print-on-Demand Group, as an inventor.
---