Bike sharing that creates energy – and pays you to ride?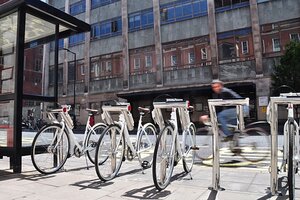 Chiyu Chen
File under: "Yes please," "Awesome of the day," and "Car[e]-free cruising."
Remember when a simple bike-sharing program was considered revolutionary?
Chiyu Chen, a design student at the Royal College of Art, has conceived of an urban bike sharing program that not only provides riders utility, but also powers the local bus system – and pays them to do so.
Users check out specially designed bikes from a locking station using an ID card. Inside the bikes is a system that stores kinetic energy generated from braking. Riders go where they need to, and when they're finished, bring the bike back to the locking station. Locking up the bike transfers the energy generated by the trip into the city grid – or, as Chen envisions, into a hybrid bus system.
Ride enough – and generate enough energy – and bike sharers can earn a bus pass. Completing the trifecta: the locking stations would be placed near bus stations, both to make renting a bike convenient and to facilitate easy bike-to-bus recharging.
---