Is Yahoo, Microsoft pact bad news for Google?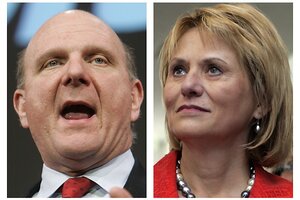 AP
This Frankenstein's monster of search already has a name: "Microhoo."
After months of wrangling – some of it played out loudly in the public spotlight – Microsoft and Yahoo today announced a 10-year global search and advertising sales partnership. The deal, which many analysts say could loosen Google's choke-hold on the search market, was announced with great fanfare in a statement from the Yahoo offices in Sunnyvale, Calif.
"For Web users and advertisers," the statement read, "this deal will accelerate the pace and breadth of innovation by combining both companies' complementary strengths and search platforms into a market competitor with the scale to fuel sustained development in search and search advertising."
If the partnership is approved by regulators, Microsoft would power Yahoo! search, while Yahoo! would control worldwide sales for both companies' premium search advertisers. According to Microsoft Chief Executive Officer Steve Ballmer, the deal will provide Microsoft's search engine, Bing, some much-needed scale, "which in turn will lead to more relevant ads and search results."
Backstory
Earlier this month, ComScore, a web tracking firm, reported that Microsoft had increased its share of the US Internet search market in June, the first month that Bing became widely available. Microsoft had 8 percent more of the search market in June than it did in May, while Yahoo's search tool lost ground, capturing about 19 percent of the market. Google stayed more or less consistent, with 65 percent of all Web searches conducted in the States.
---