In London, a team of robots joins the fire brigade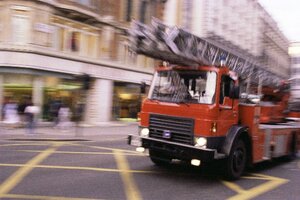 NEWSCOM
When a fire breaks out in London, a few remote-controlled robot firefighters could be dispatched to quash the blaze.
A team of robots is now being used to fight fires along with the London Fire Brigade (see one of the 'firebots' here). The unique firefighting team is part of a two-year project funded by Network Rail, the Highways Agency, and Transport for London.
These remote controlled robots, once used for bomb removal in Afghanistan, are equipped with high-pressure hoses and thermal-imaging cameras, which can be used to fight city blazes. In this year alone, during a trial-period, the robots have been called upon to fight 10 fires, according to BBC News.
The robots, which have been helping the London Fire Brigade put out fires thought to have been sparked by acetylene, a highly flammable industrial gas, have "had tremendous results," Gary Gunyon, group commander for hazardous materials and environmental protection with the London Fire Brigade, told BBC News. (In London last year,there were 471 cylinder incidents, and 91 of those involved acetylene.)
The fires involving acetylene, he says, "used to take more than 24 hours to resolve, now we get them resolved in under three hours. Three years ago we were shutting down parts of London for over 24 hours every other week. Now it doesn't even make the news."
---