Courtney Love outraged by Kurt Cobain's role in Guitar Hero 5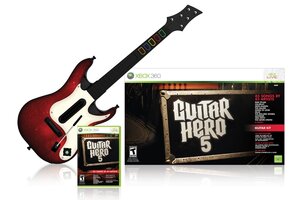 PRNewsFoto/Activision Publishing
Nirvana's music lives on in the major video game release, Guitar Hero 5, but an avatar depicting the band's frontman, Kurt Cobain, has outraged Courtney Love, the late singer's wife.
In the game, Cobain's avatar has been set as a playable character, which means that he can star in any song – including even death metal and rap songs.
Now, Love says she is planning to sue Activision, the publisher of Guitar Hero that obtained the likeness of Cobain for the game.
Love isn't the only one who's upset. Nirvana bandmates Krist Novoselic and Dave Grohl in a joint statement said they were "dismayed and very disappointed" to see Cobain's avatar used in other songs.
"While we were aware of Kurt's image being used with two Nirvana songs, we didn't know players have the ability to unlock the character," they said in a joint statement Thursday. "This feature allows the character to be used with any kind of song the player wants. We urge Activision to do the right thing in 're-locking' Kurt's character so that this won't continue in the future."
In an official statement, Activision, says Love signed a written agreement that gave them licensing rights to use Cobain's likeness for an playable character avatar.
---