Bonobos: Men buying pants online – who knew?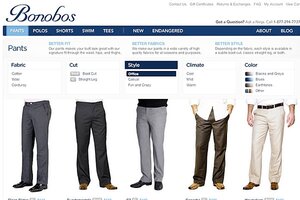 Screenshot – bonobos.com
Clothing isn't one of the topics we frequently cover here on Horizons, but a Manhattan company is changing the way many folks – men in particular – think about shopping online, and we'll jump on board.
The idea behind Bonobos, a two-year-old operation specializing in men's trousers, started with finding the perfect fit. CEO Andy Dunn and partner Brian Spaly were tired of ill-fitting pants. Designer pants were too tight – and expensive – and more reasonably priced slacks from mall stores produced a baggy phenomenon affectionately called "khaki diaper butt." The answer, Dunn says in a recent interview with Vator News, lies not only in a more tailored fit (and at a price somewhere between J. Crew and Marc Jacobs) but with an online experience that makes shopping a breeze.
Hop over to their website, and in addition to a pretty standard catalog and ordering section, you'll find a return policy that's as generous as any ever offered ("any pant, any time, any reason"). Also a plus is the included free shipping – both ways, if necessary – that serves as insurance that even though customers are buying clothes without touching and trying them on, they won't be penalized for the imprecision that often accompanies online shopping.
---