The 2010 Cannondale On: A commuter bike that isn't all there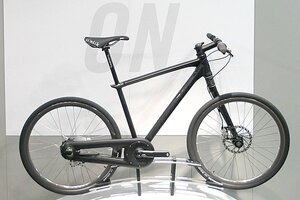 Courtesy, Cannondale Bicycle Corp
The annual Interbike trade show hit Las Vegas this week, and, as usual, there are no shortage of surprises, curiosities, and head-scratchers.
This year's winner for perhaps all three is the Cannondale On, a limited-run production bike that looks like someone took a hack saw to it. The front right fork, chainstays, and seatstays are completely missing – indeed, almost the entire rear triangle is gone.
The secret, according to VeloNews's Zack Vestal, is a structural rear chain case that's machined (like Apple's MacBook Pro notebooks) out of a single block of aluminum. It's bolted to the bike's bottom bracket, and fully supports the back wheel and drivetrain. Cannondale calls it SiCC – the System Integrated Chain Case. It covers the 9-speed hub-geared drivetrain, keeping grease off pantlegs, and giving the bike a clean look and feel.
Up front is one of the company's proprietary "Lefty" forks, named such because their asymmetrical design leaves off the right half.
The result is quite the head-turner. Riding the On (that still looks like a typo) has to be a bit like driving a Plymouth Prowler or Chevy SSR – packing all the start-a-conversation-with-complete-strangers capabilities one could want, but without much practicality. (Although one BikeForums poster points to a redeeming value to the design: change a flat – front or rear – without removing the wheels.)
---