There's a map for that: New Verizon ad one-ups AT&T
(Read article summary)
'Can you hear me now' is old news. Meet Verizon's new catchphrase.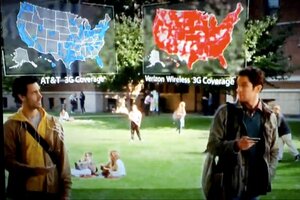 YouTube screengrab
Tired of all this Verizon-AT&T back and forth? There's a nap for that.
Though already the owners of an advertising campaign that became a catchphrase – can you hear me now? – Verizon has decided to go after AT&T's.
In a spot that ran during Monday Night Football on ESPN, Verizon took direct aim at the ubiquitous "there's an app for that" iPhone ads, poking holes in AT&T's 3G wireless network coverage.
The claim, that Verizon offers five times the 3G coverage as AT&T, is supported by red and blue coverage maps. Verizon's map shows a US overlaid with red coverage, with much of the South and Great Plains notably blanketed. AT&T's coverage is blue, and noticeably more threadbare. (Though after last election season, wouldn't blue have been a better choice for the home team?)
---