NASA Moon bombing: Did NASA really drop a bomb on the moon?
(Read article summary)
Although it's more dramatic to say NASA bombed the moon today, they really didn't. We explain why...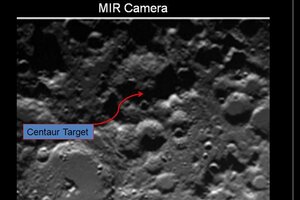 REUTERS/NASA
Bomb: an explosive device used to detonate under specific conditions. -- Webster's Dictionary
To those people who may may have been misled by the overuse of the word "bomb" -- at The Monitor and elsewhere -- to describe NASA's LCROSS mission:
Nothing exploded, although two spacecraft -- one about the size of a bus, the other a subcompact car -- did crash on the surface of the moon. For background on the whys and wherefores, you can read more about moon exploration and the reasons for the LCROSS mission here, here, and here, for instance.
How would the moon have felt about it? It's hard to ask an inanimate, non-sentient object. But using Sir Isaac Newton's action-reaction law -- the one that describes why a rocket moves one direction when its exhaust flows out the back in the opposite direction -- researchers estimate that the two collisions combined would have the same effect on the moon that dropping an eyelash in the aisle would have on the speed and direction of a Boeing 747.
In effect, these two human-made objects were artificial meteors. The moon takes hits from natural meteors several times a month. So from the moon's perspective, it will have gotten tickled a few more times in October than it usually does. The Hunter's Moon merely became the hunted, briefly.
---