The Matt Holliday error and why 'white towels' defense doesn't fly
(Read article summary)
Video of the Matt Holliday error showed he lost the ball in the lights – but was fan interference to blame?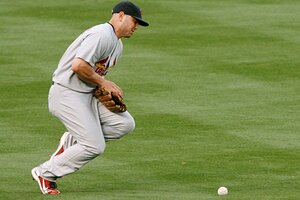 Danny Moloshok/Reuters
It's a nightmare baseball scenario.
Your team is winning in the bottom of the ninth inning, and all you need to close out the game is one out – and your outfielder drops the ball, letting the home team mount a last-minute rally and steal the win.
That's what happened to the St. Louis Cardinals Thursday night during game two of the National League Divisional Series at Dodger Stadium in Los Angeles. Left-fielder Matt Holliday lost a sinking line drive in the lights, the ball hitting him in the stomach.
Cardinals pitcher Adam Wainwright, in talking to reporters, praised Holliday and complained that the usually solid outfielder had been distracted by the twirling white towels waved by Dodger fans in attendance.
"He lost the ball in ... 50,000 white towels shaking in front of his face," Wainwright said. "It doesn't really seem fair that an opposing team should be allowed to shake white towels when there's a white baseball flying through the air. Dodger blue towels, how 'bout that?"
While it's true that the glare of the lights off of the swirling towels could've distracted Holliday, (there's a reason stadiums have "batter's eyes" for the hitter – solid or dark-colored sections beyond the center-field wall) he could have had it much worse.
---