Wow! 32 new planets discovered. These giant exoplanets dwarf the Earth.
(Read article summary)
The discovery of 32 new planets have scientists pretty excited. These exoplanets help bolster the theory that Earth-like planets are everywhere.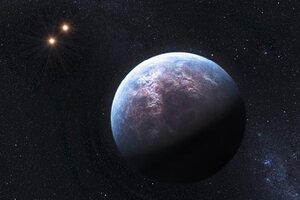 ESO / L. CALCADA / REUTERS
Maybe that halo cloud over Moscow was a UFO after all...
European scientists announced on Monday that they've discovered 32 brand spanking new planets. Don't bother looking out your window, it's not like you're going to see them or anything. They're outside of our solar system.
And these aren't your garden variety Earth and Mars-sized planets. Nor are they anything like puny-sized Pluto which is now basically classified as a piece of gravel.
These are humongous. If we were using "The Office" as a measuring guide, these planets would be named Phyllis or Stanley, as they range from five times the mass of Earth to five to ten times the mass of Jupiter.
Exoplanets
Because they are outside of our solar system, they are classified as "exoplanets." The exoplanets were discovered by the HARPS (High Accuracy Radial Velocity Planet Searcher) team on the European Southern Observatory's 3.6 meter telescope in Chile (see video below).
---