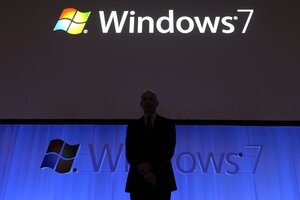 Toshifumi Kitamura/AFP
Happy Windows 7 day! The long-awaited operating system finally arrives Thursday. Unless you scored a Windows 7 free upgrade or plan to go PC shopping soon, the new software will cost a pretty penny (up to $319 for the "Ultimate" edition). So, is Windows 7 worth it? Here's what the early reviews say:
Better than Vista?
Most reviewers made the inevitable comparison to Microsoft's last operating system, Vista, which was widely considered a dud. And, most reviewers were happy to announce that Windows 7 is a big improvement over its predecessor. "The first thing you'll notice about Windows 7 is that it looks like Vista," writes the Guardian. "It also works like Vista, in the sense that it has the same plumbing underneath, except for a very welcome graphics upgrade to DX11. However, it works much better than Vista, and most of Vista's annoyances have either been removed, or (mostly) can be changed so the system works the way you like. It takes personalisation to extremes."
Cleaner look
"Windows 7 introduces real advances in organizing your programs and files, arranging your taskbar and desktop, and quickly viewing and launching the page or document you want, when you want it," says The Wall Street Journal. "It also has cool built-in touch-screen features. It removes a lot of clutter. And it mostly banishes Vista's main flaws—sluggishness; incompatibility with third-party software and hardware; heavy hardware requirements; and constant, annoying security warnings."
Speed test
---