How 'Paranormal Activity' became the most profitable movie ever
(Read article summary)
'Paranormal Activity,' the spooky mockumentary produced on a shoestring budget, has apparently garnered the highest return on investment of any film ever.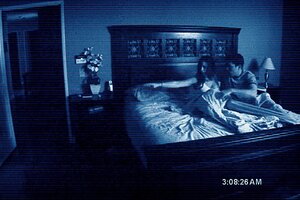 Paramount/AP
If "Paranormal Activity" the ultra-low-budget, documentary-style horror flick that surprised box-office watchers by coming in No. 1 this past weekend, were a stock, it would be a Google share times 675.
First-time director Oren Peli spent just $15,000 making the film, which has so far grossed more than $65 million in the US and Canada. That's a record-breaking rate of return of more than 433,000 percent.
The Wrap's Daniel Frankel crunches the numbers, noting that the the previous record holder, "The Blair Witch Project," cost $60,000 to produce and garnered a 414,000 percent return on investment. By comparison, "ET: The Extra-Terrestrial" returned a measly 7,541 percent return.
So how did Paramount, which distributed the film, manage to get such an astounding bang for their buck?
Step 1: Use the Interblags
The movie's Facebook page has over 125,000 fans. Not too shabby, but it pales in comparison to the more than one million fans flocking to "Transformers: Revenge of the Fallen." "Paranormal Activity," also has more than 8,000 followers on Twitter. Again, this is impressive, but Fake Michael Bay still has more.
---