Apple's $30 a month TV subscription service? Not buying it.
(Read article summary)
Reports of Apple shopping the $30 a month subscription TV service to major networks raise questions – and open a world of possibility.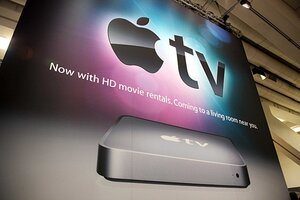 Jon Vidar/Sipa Press/Newscom
OK, it's a rumor. And it's based on one report – from a major organization, but citing several anonymous sources.
The prospect of a TV subscription model from Apple has many around the Web pondering what such a move would do to the media landscape.
First speculated on reported by The Wall Street Journal's Peter Kafka this morning, the service would bring a (presumably unlimited) roster of TV shows to subscribers for $30 a month. And instead of being tied to any current Apple product or an as-yet-unannounced tablet device, the service would run through the company's 65 million user-strong iTunes software.
Sound fishy? It is.
First of all, there's content. What's a content subscription service (cable TV, magazines, or Netflix) without the best content? To be a success, a TV subscription service needs to land the big fish of the industry – the big-three networks, HBO, and the like. No one's going to pony up for re-runs of Ice Road Truckers.
How, assuming they want to jump aboard, do you convince these industry heavy hitters to risk incurring the wrath of major cable providers by signing up for a service whose whole existence would threaten the stranglehold they have on distribution of said content? Disney's rumored to be the first to sign up, due to the special place it holds in Apple CEO Steve Jobs' heart (and pocketbook – he's the top individual shareholder, because of the sale of Pixar to Disney in 2006) but despite what screaming tweens and their ticket-hungry parents say, you can't launch a subscription model on Hannah Montana alone.
---