CrunchPad canceled: Arrington's pet project now vaporware
(Read article summary)
The CrunchPad is dead, Michael Arrington declares. But would it have succeeded? And will Apple have a better go of it?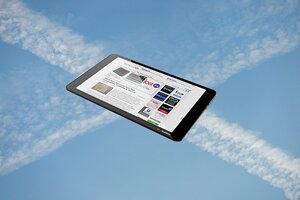 Newscom photo illustration/Andrew Heining
It's the trash compactor for the CrunchPad.
In a post that is as direct and unfiltered as the world has come to expect from him, firebrand TechCrunch founder and editor Michael Arrington on Monday laid out the undoing of his company's highly hyped (and eagerly anticipated) bare-bones tablet computer, the CrunchPad.
It had a great concept (with a name to match), plenty of buzz, and a solid source of funding ("blue-chip angel and venture capitalist investors" as Arrington described it in its obituary). But according to Arrington, the CrunchPad fell victim to greed, betrayal, and straight-up theft of intellectual property.
Arrington quotes emails from the main CrunchPad partner, Fusion Garage CEO Chandra Rathakrishnan, and says flatly that Crunch Gear had been pushed aside. Writes Arrington:
We were being notified that we were no longer involved with the project. Our project. Chandra said that based on pressure from his shareholders he had decided to move forward and sell the device directly through Fusion Garage, without our involvement.
Err, what? This is the equivalent of Foxconn, who build the iPhone, notifiying Apple a couple of days before launch that they'd be moving ahead and selling the iPhone directly without any involvement from Apple.
---