Operation Chokehold: AT&T, FCC condemn Fake Steve Jobs plan
(Read article summary)
In response to reports that AT&T will begin charging 'bandwidth hogs,' Fake Steve Jobs had urged iPhone users to run bandwidth-intensive apps for an hour on Friday. AT&T calls the stunt irresponsible and pointless, and the FCC said it was a public safety concern.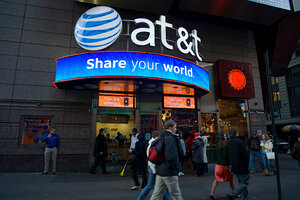 Newscom/File
Operation Chokehold: it sounds malicious – violent, even. But the plan, proposed by "Fake Steve Jobs" himself, doesn't involve bodily harm.
Rather, the scheme is aimed at bringing AT&T's wireless data network to a crawl Friday afternoon as a protest against plans by AT&T to impose fees on iPhone users who use what the company considers too much bandwidth.
Fake Steve Jobs (Newsweek columnist Dan Lyons) proposed the move Monday, urging iPhone users to run data-intensive apps for an hour on Friday afternoon after an AT&T official Ralph de la Vega told shareholders of the company's plans for charging so-called bandwidth hogs more for using "too much" data on the network.
Pinged about the plan by Cult of Mac, an AT&T spokesman said:
We understand that fakesteve.net is primarily a satirical forum, but there is nothing amusing about advocating that customers attempt to deliberately degrade service on a network that provides critical communications services for more than 80 million customers. We know that the vast majority of customers will see this action for what it is: an irresponsible and pointless scheme to draw attention to a blog.
---