Google Nexus One gets unwrapped before Christmas
(Read article summary)
Google's Nexus One smartphone is slowly getting unveiled ahead of its release as leaks and unauthorized walkthroughs hit the Web.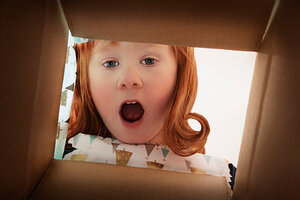 Newscom
The presents are wrapped and under the tree – what harm could tearing a little hole in the wrapping paper do?
That seems to be the mentality of many in the gadget press when it comes to new products, and the Google Nexus One is no exception.
This week tech fans have seen a slew of covert snapshots of the phone in action, including shots of it being "unboxed" (a tech tradition), a video of its interface (below), and the familiar grainy, shaky cameraphone snaps of it next to other products like the iPhone.
Here's what we [think we] know so far:
It's thinner and lighter than the iPhone. Gizmodo's Jason Chen spent some time with a Nexus One and had this to say about it: "It's basically, from my time with it, Google's Droid killer. It's thin, it's fast, it's better in every way." The Droid, regular readers and pretty much anyone who's watched TV in the past months know, is Motorola's latest Android-equipped smartphone. It's aimed squarely at dethroning the iPhone from its place atop the smartphone pile, and has done quite well. Unlike the Droid (and just like the Droid Eris and iPhone), the Nexus One does without a physical keyboard, but includes a trackball that changes color. Its display has been called brighter and crisper than both the Droid and the iPhone's. The rest of the leaked specs are pretty much in line with much of the smartphone field: a 5 megapixel camera with auto-focus, expandable SD-card storage, and all the usual sensors: proximity, light, etc.
---