With Nexus One release, another Google business is born
(Read article summary)
The Nexus One, released Tuesday, is dubbed a "superphone" by Google, and while revolutionary, what's really new is the way Google's selling it.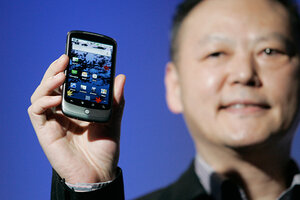 Robert Galbraith/AP
Voice-enabled text fields; a multicolor, status-aware scroll ball; stereo bluetooth; talking GPS; and slim-as-a-pencil, light-as-a-pocketknife specs – the Nexus One from Google and HTC is enough to make a fanboy's head spin.
But before users can waste a weekend plying every inch of the Nexus One's OS and its myriad features, they've got to get it in their hands. And, as is its habit, Google has expanded its business, opening an online store at google.com/phone to sell the Nexus One and its future Android siblings directly to consumers.
At a reporters-only event held Tuesday afternoon at its Mountain View, Calif., campus, Google hammered home its desire to keep the Nexus One experience "pure and simple." The company said it wanted to get the latest Android technology to the consumer as quickly as possible. That means that from sign-up to activation to shipping, the consumer is dealing directly with Google.
---