Bing could become default search engine on iPhone
(Read article summary)
If Bing does knock Google off its iPhone perch, it would be a major win for Microsoft.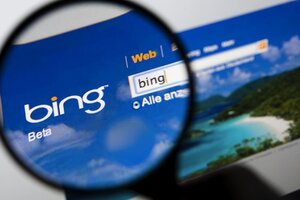 Newscom
Microsoft is in talks with Apple to make the scrappy Bing search engine – successor to the long-ailing Live Search – the default search engine on the iPhone's Safari browser. That's the rumor today from Business Week, and if true, it would highlight increased strains between Apple and Google, the reigning search king.
Today, the iPhone comes equipped with a Safari browser, which uses Google as its default search tool. Although users can download alternate search applications – Microsoft makes a Bing app for the iPhone, for instance – many iPhone owners stick with the default search option. That's a lot of fingers typing a lot of search queries, which is very good news for Google.
---