On Bubble Wrap Appreciation Day, online 'pop' culture in the spotlight
(Read article summary)
This year marks the 50th anniversary of Bubble Wrap, and people can join the celebration with a few clicks of a mouse.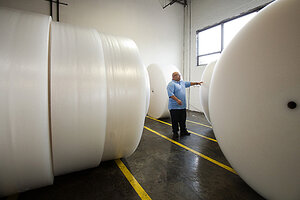 Christopher Barth/AP
Sometimes you just need a break.
Whether you're fed up with all the not-news on Apple's [still!] unannounced tablet device, peeved over the Tata Nano's outlandish US price increase, or just need a break from tweeting (even from space), a few minutes with a scrap of bubble-encrusted plastic should be just enough to take the edge off.
Sealed Air Corporation's Bubble Wrap, like Kleenex, Post-Its, and, well, Snuggies, has come to occupy one the rarest gems of consumer acceptance: adoption of its brand name as the generic term for the product. And because an Indiana radio station decided it nine years ago, today, the last Monday in January, is Bubble Wrap Appreciation Day, a day when folks the world over are encouraged to pause, ponder, and, well, pop little plastic bubbles of air.
---