Netflix goes global, but without the red envelopes
(Read article summary)
After a false start in 2005, a Netflix rep says the company will begin to expand video-streaming services to other countries.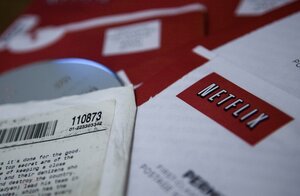 Newscom
Netflix has already conquered rent-by-mail in the US. Next up? The international market.
That's the news today from Reuters, which reports that Netflix will unveil a streaming-only service in an as-yet-unnamed country. Back in 2005, of course, Netflix signaled that it would move into Canada and the UK, but the expansion was cut short so the company could focus on US sales. At the time, Netflix said it had scaled back plans due to a (now-defunct) movie service from Wal-Mart.
Now, with things pretty much sealed up in this part of the world, Netflix is ready to give it another go. In an interview with Reuters, Netflix Chief Executive Reed Hastings dropped some hints about the locales Netflix is considering. "The big market for Hollywood content [after the US] is Europe," Hastings said. "Third is Asia. Fourth is the rest of the world. Canada is and was an option. It's sort of international-lite."
---