Three reasons the iPad will get a price drop
(Read article summary)
A Credit Suisse analyst says Apple's brass remains open to reducing the tablet's already-cheap price.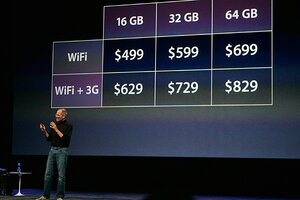 Kimberly White/Reuters
How low can they go?
Judging by the gasp audible in the video of Apple's launch event last month, most people were surprised at the Apple iPad's low price.
And now word is leaking from the Wall Street Journal that Apple is willing to take the price lower, if circumstances call for it.
What would those circumstances be?
The first is a bit obvious. Let's pretend the iPad is a dud – not so hard to do, if one puts much stock in a report from late last week, which found that most people, while stoked about the tablet, don't really want to buy one. If Apple, despite the Steve Jobs reality distortion field, can't get people to pony up $500 for a device no one knows how to carry, or what to do with, the svelte screens would languish on brushed aluminum shelves. Apple could drop the iPad's price $100 or $200 to stimulate demand.
The second scenario – and more likely, if you ask us – is that Apple somehow has succeeded in convincing consumers that they have need of this "third device," and the thing sells like hotcakes. It'll be popular with the early-adopter and the tech neophyte, "I use it to get to the Googles" crowds. As it did with the iPhone, Apple could drop the price in an effort to make the iPad appeal to the masses (and all the smart consumers out there). A move like that could solidify the iPad's ascent to an iPhone-esque lock on the tablet market.
---