HBO GO aims to give Netflix a run for its money
(Read article summary)
HBO GO, a new video-streaming service, is set to launch tomorrow. And in at least one major way, HBO GO has a leg-up on Netflix.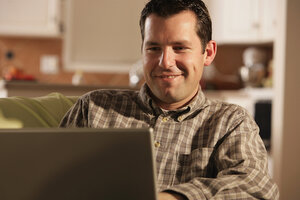 Newscom
Well, Netflix wasn't going to get to hog the video-streaming spotlight forever. Today, HBO took the wraps off – drumroll, please – HBO GO, a service which HBO says will immerse "customers into an elegantly designed HBO environment with access to a robust offering of HBO programming."
Good news: HBO GO, which features more than 600 hours of "continuously updated" programming, is set to launch tomorrow. Bad news: for the time being, in order to get HBO GO, you've got to have Verizon's FiOS TV, and a subscription to regular ole TV-based HBO.
So what's so great about the platform? The major attraction, of course, is the ability to sit in bed and watch HBO shows on your laptop. (According to a very informal poll conducted by this blogger, a large percentage of 20-somethings are a big fan of watching TV shows on their laptop, so HBO wins there.)
HBO says GO users will support three subaccounts in the same household, which means you and your girlfriend and your cat can each have simultaneous GO access. There's also a feature called Watchlist, which allows users to bookmark content or request notifications when new episodes or movies become available.
---