Bloom Box: What 60 Minutes left out
(Read article summary)
The '60 Minutes' Bloom Box spot revealed a lot about the clean-energy 'power house.' Here's information that didn't air on TV.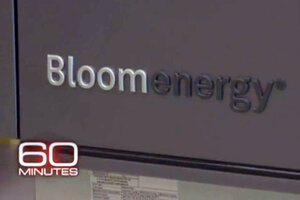 CBS
The "60 Minutes" Bloom Box segment Sunday night introduced the world to a previously anonymous and intensely secretive company with a very attractive message: Cheap, clean energy that flows almost magically from a refrigerator-sized box.
This TV debut – a big scoop for CBS News – brought viewers behind the scenes of Bloom Energy and two of its customers, eBay and Google. But the television spot didn't tell the whole story. Several chunks of the interview were Web-exclusive and other news organizations have uncovered new perspective on the team behind Bloom Box.
Monitor colleague Mike Farrell reports that experts are skeptical about whether Mr. Sridhar, who has already raised about $400 million to produce his boxes, can bring expensive fuel cell technology to the masses. You can read more about it here.
How green is it really?
---