Hulu's big problem: No loyalty
(Read article summary)
As the Daily Show and Colbert Report leave Hulu, they reveal the video streaming site's greatest weakness.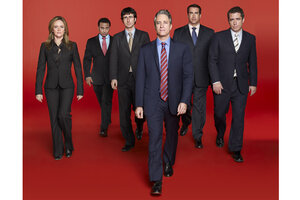 Gavin Bond
Next week, The Daily Show and The Colbert Report, two of the most watched shows on Hulu, will be pulled from the website's video library.
Fans have until Tuesday, March 9, to watch these and other Comedy Central shows before they disappear from Hulu. Reruns will still exist online, but only through the cable network's official sites, TheDailyShow.com and ColbertNation.com.
This departure will probably cause only a small dip in traffic. Hulu's audience has grown steadily for some time now, with 1 billion video views a month – second only to YouTube.
But the Comedy Central announcement highlights an enduring problem for Hulu: loyalty.
The only reason Hulu has come this far is because NBC, Fox, and ABC joined forces to create the site and test the online waters. In a way, Hulu is guaranteed content from those three networks. Expanding its catalog into movies and cable shows, on the other hand, is an uphill battle.
Building a new business out of an old industry is tough work. Hulu promised viewers TV shows anytime, anywhere. What it found was onion-like layers of entrenched companies that liked the old system just fine. Offering shows anytime might take away advertising money from the original broadcasts. Offering them anywhere – and for free, no less – might push cable customers to cancel their subscriptions.
---