Is the Google Nexus One a turkey or just overhyped?
(Read article summary)
Compared to the Droid and iPhone, the Google Nexus One has pitiful sales numbers. But is such a comparison fair?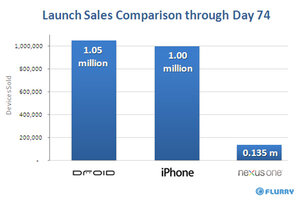 Flurry
Google Nexus One has had a very slow start, according to the mobile-device analysts at Flurry.
"Despite the fact that the Google Nexus One is the most advanced Android handset to date, and enjoyed substantial buzz leading up to its release, the launch has been overshadowed by lower than expected sales," the company says on its website.
How much lower? It took Apple 74 days to sell its first million iPhones. The Motorola Droid sold 1.05 million phones in the same amount of time after its launch. Compared to these big names, the Nexus One had a pretty wimpy opening. Shoppers picked up only 135,000 of the Google phones in the first 74 days.
Morgan Stanley – which recently dubbed the iPhone and iPod Touch the fastest adopted gadgets of all time – had bullish hopes for the Nexus One. It expected Google to ship 3 million of them by the end of the year. Surprised by this sputtering start, Morgan Stanley dropped its estimate to 1 million sold by 2011.
Why so few? The Nexus One packs enough processing power into its sleek design to make it a worthy iPhone rival. And the smart phone sports the latest version of the Android operating system – it's more advanced than the Droid's.
---