Nintendo exec scoffs at gaming potential of Apple iPad
(Read article summary)
The Apple iPad as next-great gaming device? Forget about it, says the Nintendo of America president.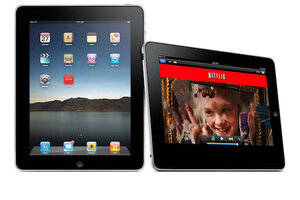 After months of rumor-slinging and hand-wringing, the Apple iPad arrived on store shelves this weekend, and for the most part, the tech press is impressed. David Pogue called it "a brilliant machine, a category-creator, a joy to use." Walt Mossberg noted that "Apple's custom processor makes it wicked fast." And over at PC Mag, one reviewer said that the Apple iPad "will undoubtedly be a driving force in shaping the emerging tablet landscape."
But at least one party wasn't won over. Apple "is not having an impact on Nintendo when you look at our business, our volume, our hardware, our software," Nintendo of America president Reggie Fils-Aime recently told the gaming blog Kotaku. "I've seen data that suggestions that while consumers are constantly downloading apps, they play with them for a few times and then they are moving on to the next thing.
---