Jack White: Guitar Hero, Rock Band no substitute for real tunes
(Read article summary)
Jack White, the lead singer of garage band The White Stripes, has a stern lesson for aspiring musicians: Drop the toy guitar. Quit the Rock Band and Guitar Hero thing. And get a real instrument.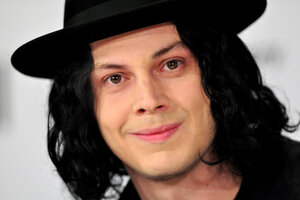 Newscom
Get off the couch, put away your multicolored plastic toys, and pick up a real instrument. That's the word this week from Jack White, frontman of the rock band The White Stripes and video-game-hater nonpareil. Speaking to British music magazine NME, Mr. White suggested that all aspiring musicians should "quit playing video games, throw away their Auto-Tune program and cut three strings off their guitar."
Auto-Tune is the voice modulation technology pioneered by a handful of US rappers; the three strings line is a reference to the stripped-down chords employed by White and other garage rock wizards. But it's the video game rant that really has the gaming blogosphere all knotted up. White, after all, is a serial basher of gaming culture.
In an earlier interview, White panned Guitar Hero and other music video games. "It's depressing to have a label come and tell you that [Guitar Hero] is how kids are learning about music and experiencing music," he said.
---