Google launches archive search for Twitter
(Read article summary)
Trying to track down a single tweet from 2007? With the new Twitter archive search, Google is opening up access to years of Twitter activity.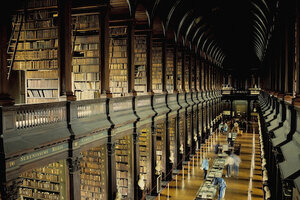 Newscom
At last count, Twitter was logging approximately 50 million messages a day, at a velocity of 600 tweets per second. According to Twitter, users have sent more than 10 billion tweets since the site launched in 2006 – a major milestone for a platform that started out life as nothing more than a much-mocked curiosity. One side effect of all that tweeting, of course, is that it's increasingly difficult to find information in the vast Twitter archives.
In recent months, Google has amped up its real-time search efforts, in an attempt to keep up with the heavy tweet output. By all accounts, it's a mutually-beneficial move: Google keeps its results current, and Twitter gets a surge of extra traffic. Now Google has announced that it will provide access to all of Twitter's public archives, which will allow users to dig through tweets by topic and date.
---