Apple iPad sales hit 1 million in less than a month
(Read article summary)
It took only 28 days for the iPad to sell 1 million copies. The Apple iPhone took twice as long.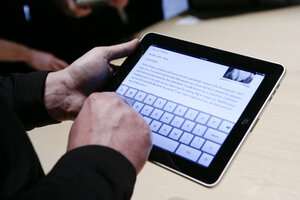 Ryan Anson/AFP
Magical? Maybe. Popular? Definitely.
Apple announced Monday that it has sold 1 million of its new iPad tablet computers. Aided by the launch of the iPad 3G, the company hit the record Friday -- just 28 days after the device went on sale.
"One million iPads in 28 days -- that's less than half of the 74 days it took to achieve this milestone with iPhone," says Apple CEO Steve Jobs in a statement. "Demand continues to exceed supply and we're working hard to get this magical product into the hands of even more customers."
Tech analysts forecasted a much slower start for the iPad. Hudson Square Research analyst Daniel Ernst told Reuters that he foresaw Apple taking months to reach 1 million sales. The iPad is a "game-changer," he now tells Reuters. "This is a product that could really redefine how we consume a lot of content."
---