HTC EVO 4G review roundup
(Read article summary)
The HTC EVO 4G hits shelves at the beginning of June. But a few lucky reviewers have already gotten their mitts on the EVO 4G. These are their stories.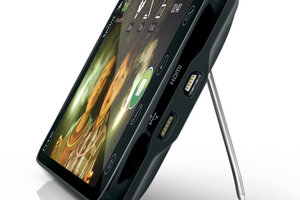 Newscom
Say hello to the HTC EVO 4G. Pretty, isn't it? And judging by the first early EVO 4G review posts to come screaming over the transom, the smart phone, which should hit shelves nationwide on June 4, is a good phone to boot – fast, smart, and capable. "Let us be crystal clear: we love this phone. Nay, we adore it," gush the folks over at Engadget, who were lucky enough to get their hands on an EVO 4G. Most people agree.
Let's go to the judges.
Over at CNET, one reviewer says the 4G service on the EVO 4G is solid, but not without flaws. "It's clear that the HTC Evo 4G is one of the most powerful Android smartphones on the market, but what makes it different from the rest – and we're talking all smartphones, not just Android – is the 4G capabilities." CNET says 4G, which is available in a handful of US markets – but not yet in New York – chews through most media at a rapid clip.
---