iPhone 4 review roundup: Apple versus the competition
(Read article summary)
There are no official iPhone 4 review posts yet, but everyone is busy comparing the new Apple smartphone to key Android devices.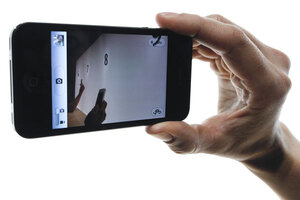 Newscom
The veil has been lifted. The specs are in. So, should you buy an iPhone 4? Review the many headlines out there and you'll find a whole lot of answers.
Since no reviewers have used the new iPhone long enough to write a full report, some of the most interesting articles compare Apple's upcoming smartphone to its many competitors. With the Sprint EVO 4G, Nexus One, Verizon Droid Incredible, and many others vying for shoppers' attention, Apple has a lot riding on this new model. Here's how it stacks up:
iPhone 4 versus Google Nexus One
"Its resolution is not as awesomely crisp as the iPhone 4's, but is fairly high at 800 x 480 pixels," writes Techtree.com. "The Nexus One can already be updated to Android 2.2 (a.k.a Froyo), which is Google's latest version of their mobile OS. It enables some cool new features like Internet sharing over Wi-Fi and better support for Adobe Flash, along with faster performance. Android has also become, in our opinion, very close in terms of usability to the iPhone OS, give or take a few things from both parties."
---