Gulf oil spill: To control message, BP buys search terms from Google
(Read article summary)
BP has purchased several search terms from Google, including the phrase 'oil spill.' A BP spokesman says the PR initiative is an attempt to inform readers of BP's clean-up efforts in the Gulf of Mexico.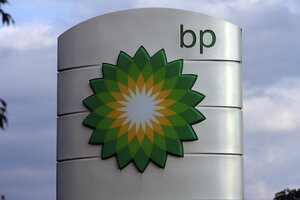 Newscom
Late last month, as the controversy over the Gulf oil spill was just heating up, BP tussled with the folks behind a popular spoof Twitter feed. Now comes word that the PR department at BP has forked over a healthy chunk of change to control the way Web users view the company. According to BP reps, the company has purchased a range of popular search terms – including "oil spill" – from Google, the most popular search engine in the US.
So what does it mean to "purchase" a search term? Well, it certainly doesn't make all the negative results go away. Today, for instance, a Google search for "oil spill" returned a range of results, including a Huffington Post article and a Wikipedia entry on oil spills.
---