White iPhone 4 preorder is 'unavailable.' But why?
(Read article summary)
Apple won't allow white iPhone 4 preorder sales. Its only explanation: the company is working 'as quickly as we can.'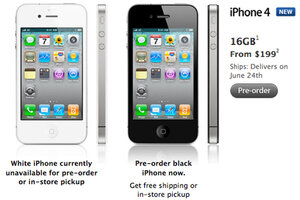 Apple.com
Among the several issues plaguing the iPhone preorder process on Tuesday lies the curious question: Where are all of the white iPhone 4 models?
Shoppers hoping for an alabaster and steel iPhone met a cryptic roadblock. "White iPhone currently unavailable for pre-order or in-store pickup," says the Apple.com store. No word on when they'll become available. No word on why.
The San Francisco Chronicle asked Apple directly and got an equally vague response. "There is tremendous excitement for the new iPhone 4 and we are working to get as many of them into the hands of customers as possible," the unnamed Apple rep tells the Chronicle. "At launch, we have the black models available for purchase and we will be adding the white models as quickly as we can."
This absence wasn't entirely unexpected. On Monday, Engadget reported on a rumor that AT&T stores would only stock three iPhone models at first: The black iPhone 3G S, and the two black iPhone 4 SKUs. The white 3G S has been discontinued, apparently. And the white iPhone 4s would be "available later this summer," according to AT&T. Again, no specifics.
---