Facebook again taken to task on user security
(Read article summary)
Facebook today was reprimanded by a coalition of ten privacy groups, which urged the popular social-networking site to close several outstanding security loopholes. For Facebook, it's déjà vu all over again.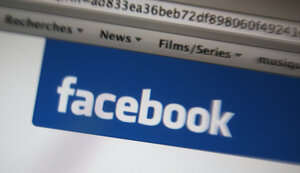 Newscom
And Facebook thought the worst was already over.
On Thursday, a group of ten privacy groups, including the ACLU of Northern California and the Electronic Frontier Foundation, sent an open letter to Facebook, asking the site to close several outstanding security loopholes. The letter comes weeks after Facebook simplified its security settings, in an attempt to pacify thousands of critics, who claimed Facebook was carelessly exposing user information.
The open letter includes a range of suggestions, according to Information Week. Chief among them: Give users more control over in-site applications. "One issue that must be resolved is the 'app gap': the fact that applications and web sites that use the Facebook Platform can access a user's information if that user's friend – and not the user herself – runs the app or connects with the site," the letter says.
Facebook should also require users to opt-in before they share their profile photo, name, and network affiliations, the coalition argues. Facebook currently makes that information public, and requires users to flip a handful of switches to hide their profile information.
---