What's wrong with the screen on the Droid X?
(Read article summary)
Droid X, the latest smartphone in the top-selling Motorola Droid line, continues to draw plenty of buzz in the smartphone sector. But some Droid X users have been complaining about flickering and dead pixels.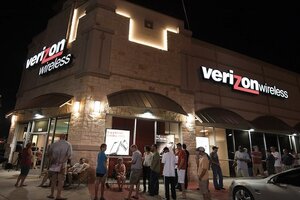 Verizon
In many ways, Droid X is a success. Verizon, which originally claimed it would be able to keep up with consumer demand, has sold out of Droid X handsets on its online store, and new units aren't expected until next week at the earliest (and early next month at the latest). Meanwhile, dozens of US outlets around the country are reporting depleted Droid stock. All good news for Verizon, which has been able to keep up the Droid X buzz.
But over the past 24 hours, dozens of Droid X owners have come forward and complained about flickering and dead pixels on the Droid X's gigantic HD display. According to the team at the tech blog Electronista, users are returning Droid X handsets to Best Buy. Meanwhile, Verizon call center employees "know of the issue and are informing users they have 30 days to exchange their handsets for any reason," Electronista reports.
---