Amazon Kindle 3 review roundup
(Read article summary)
Last week, Amazon took the wraps off its latest Kindle e-reader. We pluck the highlights from a mountain of Kindle 3 review copy.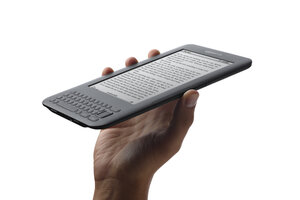 Amazon
The Kindle 3 is the latest entrant into the already crowded e-reader market, and if you believe the hype from some quarters of the Web – we certainly do – this sleek gray machine is the best electronic reading device Amazon has ever manufactured. But how does the Kindle 3 stack up against the Barnes & Noble Nook, the Borders Kobo, or even the Apple iPad? Let's take a look at the scorecards.
Over at PC World, the Kindle 3 gets a rave review for its slim profile. "For the first time, I could comfortably hold a Kindle e-reader in one hand," notes reporter Melissa J. Perenson. "At 246 grams, the Kindle is not the lightest such device on the market – the Kobo eReader, which also has a 6-inch display, is about 28 grams lighter; and the Bookeen Cybook Opus is lighter still, at 150 grams."
---