BlackBerry Torch has some asking 'who needs an iPhone?'
(Read article summary)
BlackBerry Torch, the newest smartphone from RIM, was introduced in New York City this morning. Pundits are predicting that the BlackBerry Torch could take a bite out of the Apple iPhone. We're not so sure.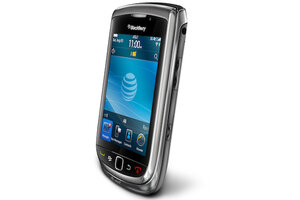 RIM
BlackBerry Torch was unveiled at a much-ballyhooed press conference in New York City this morning, and plenty of bloggers are already frothing at the mouth. Fair enough: the newest RIM smartphone sports some sharp curves, a touchscreen and a QWERTY pad, and comes equipped with BlackBerry 6, an updated operating system that RIM is calling "fresh, approachable and engaging."
But is the BlackBerry Torch really a challenge to the iPhone 4? We have our doubts. For one, Apple and BlackBerry have always occupied different corners of the smartphone market. Except for the BlackBerry Storm – a poorly-branded and poorly-executed smartphone that didn't ever really threaten the iPhone – RIM has generally succeeded by going after business professionals, who use their BlackBerries mostly as email and calendar machines.
---