Verizon iPhone could hit market as soon as January
(Read article summary)
Verizon iPhone rumors are a favorite pastime on the Web. But one tech blogger says that this time, the Verizon iPhone is really, totally, definitely set for a 2011 launch.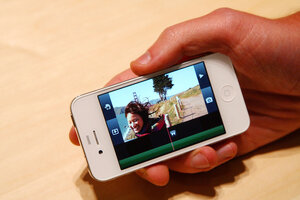 Newscom
A Verizon iPhone is indeed on the way – and it could hit the market as soon as January; that's the word today from the popular blog TechCrunch. If the report is accurate, the smartphone market is in for a major shake-up. Word of a Verizon iPhone, of course, has been percolating for months, although Apple and Verizon have repeatedly sought to downplay the rumors.
Now TechCrunch's Steve Cheney says he has proof that a Verizon iPhone launch is imminent.
"Sources with knowledge of this entire situation have assured me that Apple has submitted orders for millions of units of Qualcomm CDMA chipsets for a Verizon iPhone run due in December," writes Cheney. "This production run would likely be for a January launch, and I'd bet the phone is nearly 100 percent consistent with the current iPhone 4 (with a fixed internal insulator on the antenna)."
But that's not all. Over at MSNBC, reporter Suzanne Choney has reviewed AT&T's quarterly filing with the Securities & Exchange Commission, and found an intriguing snippet where the company discusses reducing its dependence on "any single handset." Does the company mean the BlackBerry Torch? Or a drifting away from its cash cow, the iPhone.
---