Dell Streak review roundup
(Read article summary)
Dell Streak is set for a Friday release. But how many users are in the market for a 'tweener' device?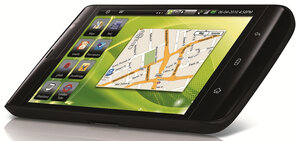 Newscom
On Friday, Dell is set to release the Streak, a device that falls somewhere between a tablet and a smartphone. Dell says the Streak, which ships with a whopping 5-inch touchscreen, "is ideal for experiencing thousands of Android Market widgets, games and applications, all without squinting or compromising portability." But critics have argued that consumers will be turned off by the device's "tweener" status.
(As a point of comparison, the iPhone 4 is 3.5 inches diagonally. Droid X enjoys a 4.3-inch screen. The iPad is 9.7.)
So is the Dell Streak likely to be a dud or a smash hit? Let's go to the score cards.
Over at the Wall Street Journal, Walt Mossberg likes the memory capacity on the Streak – 19 GB in all, including the 16 GB removable card – and applauds the clear call quality. But Mossberg says the Streak "looks somewhat ridiculous when held up to the ear to make a phone call." Moreover, he points out, the screen resolution on the Streak is lacking, compared even to the much-smaller iPhone 4.
---