Samsung Epic 4G set for late summer launch
(Read article summary)
Samsung Epic 4G is a kind of successor to the HTC EVO 4G, the first smartphone to use Sprint's 4G network. The Epic 4G will ship at the end of August, Samsung says.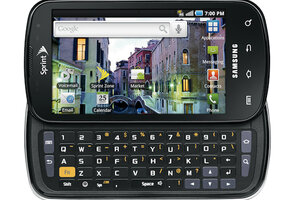 Newscom
Samsung Epic 4G, the latest handset to take advantage of the Sprint 4G network, is expected to hit store shelves by the end of the month, Sprint confirmed this week. The Epic 4G, an iteration of Samsung's Galaxy S line, ships with a slide-out QWERTY keyboard, a 4-inch Super AMOLED screen, and the Android 2.1 operating systems. It will retail for $249 with a two-year voice and data contract and a $100 rebate.
That puts the Samsung Epic 4G at about $50 more than the standard $200 most carriers charge for a subsidized smartphone. So how does the Epic 4G stack up? Well, details are scarce, but Yahoo's Ben Patterson got 30 minutes with the Epic, and he praises the handsets "gorgeous display," the "nice" keypad, and the stylish build.
"[W]hile the 0.56-inch-thick Epic 4G tips the scale at a relatively hefty 5.5 ounces, I was blown away by how light it felt for its size," Patterson wrote. "(The new, six-ounce Motorola Droid 2, another QWERTY slider with a smaller display than the Epic, feels like a brick in comparison.) How did they do it? Beats me."
---