Netflix rolls out free app for Apple iPhone, iPod Touch
(Read article summary)
Netflix hits the (very) small screen. But how does the Netflix experience on the iPhone stack up?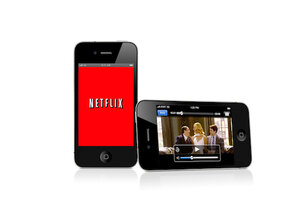 Newscom
Some good news for Netflix subscribers who also happen to own a shiny new Apple iPhone (or even a dull, scraped up old Apple iPhone): Now there's an app for that. Beginning today, iPhone users can download an application from iTunes, which will let you stream videos and televisions programs from the Netflix library. The application is free; Netflix memberships start at nine bucks a month.
The app works over Wi-Fi and 3G connections, and is available on the iPhone Touch.
Over at Wired, Eliot Van Buskirk has tried out the iPhone Netflix app – and he declares it a resounding success.
"We watched a full-length film over the iPhone's 3G connection – Silent Running, if you must know," Van Buskirk writes. "There were no hiccups – in the New York metropolitan area to boot. Battery drain is about the same no matter what you are doing on the iPhone, though the connection type and screen brightness can affect battery life. We seldom use the iPhone for 89 minutes straight, and in this case, lost about half of our battery charge."
---