Gmail call feature a ringing success, a million times over
(Read article summary)
Google rolled out a new Gmail call functionality this week – and within 24 hours, a million Gmail users had tried out the Google voice service.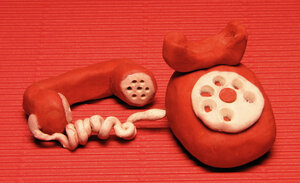 Newscom
Call it Google Voice, Google phone, Gmail calling – or even "that Google Internet phone thingie." Whatever it is, it sure is popular. According to Google, a million users tried out its new Gmail call functionality within the first 24 hours the service was available – a ringing success for the California-based search giant, no matter which way you slice it.
Not clued in on the feature? Here's the gist: Gmail users can now download a kind of add-on to the Gmail interface. When the add-on is installed, a "call phone" icon will pop on the left rail of your interface, right above your contacts list. Click that button, and Google will connect your call – it's as simple as that. Gmail calling had been rolled out to everyone in the US by yesterday afternoon, Google said.
---