Samsung Galaxy Tab: It costs how much?
(Read article summary)
Samsung Galaxy Tab, among the first Android-powered tablet computers, has been listed on Amazon UK for the equivalent of more than $1,000. But what will the Samsung Galaxy Tab cost here in the states?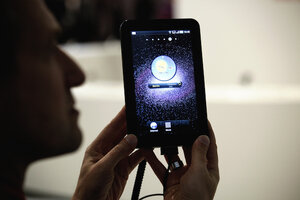 Newscom
On Thursday, Samsung announced that the Galaxy Tab – its long-awaited, Android-powered tablet computer – will be available via four wireless carriers: AT&T, Sprint, T-Mobile and Verizon Wireless. That gives the Samsung Galaxy Tab a huge leg-up over the Apple iPad, which is only available via AT&T. Not that the Galaxy Tab needed it.
From top to bottom, this is a high-powered machine. According to Samsung, the Galaxy Tab will feature a 7-inch display, front- and rear-facing cameras, a 1GHz Hummingbird processor, Flash 10.1 support, the "Media Hub" content platform, and Android 2.2, the latest iteration of Google's Android operating system. So far, so good.
---